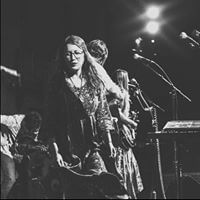 Molly Pitcher Brewing Company LIVE Upstairs presents:
Boston's Americana Artists of the Year, Honeysuckle with Vincent Yarnell.
Honeysuckle is a progressive folk act that blends older influences and traditional instrumentation with modern effects and inspiration.
Comprised of Holly McGarry and Chris Bloniarz, this Boston based band can frequently be found performing across the country. Honeysuckle has performed an Audiotree session and at Newport Folk Festival, Lollapalooza, Mountain Jam, Americanafest, was chosen as a Converse Rubber Tracks artist, and has been nominated for Best Folk Artist of the Year, and Best Americana Artist of the Year four years in a row at the annual Boston Music Awards. In 2018 they won Best Folk Artist of the Year, and 2020 Best Americana Artist of the Year at the Boston Music Awards. They were also put in the Top 10 bands of 2016 So Far list compiled by NPR. www.honeysuckleband.com
Vincent Yarnell is best known for his work in the local folk powerhouse, RIVERS. His songwriting and playing prowess is something you will never see duplicated. theriversband.bandcamp.com/
Don't miss this incredible combination of folk music!
Production: Shaw Ranch Studio
Promotion: Kingfish & Friends