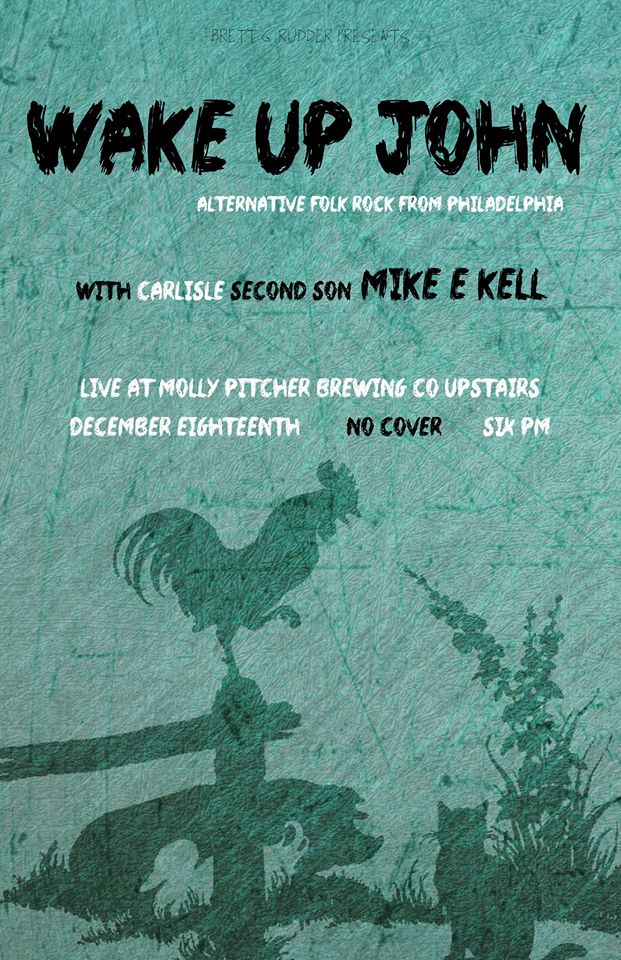 LIVE at Molly Pitcher Upstairs: Up and coming Philly Alt folk rock band Wake Up John with Carlisle's own rockin' second son, Mike E. Kell (of The Townies)
𝗪𝗮𝗸𝗲 𝗨𝗽 𝗝𝗼𝗵𝗻 | 𝗣𝗵𝗶𝗹𝗮𝗱𝗲𝗹𝗽𝗵𝗶𝗮 𝗔𝗹𝘁 𝗙𝗼𝗹𝗸-𝗥𝗼𝗰𝗸
https://wakeupjohn.com/
With some big performances under their belt, and the debut album released, Wake Up John are making waves with their unique style and 4-part harmonies all over the state. Catch them live for free tonight!
𝗠𝗶𝗸𝗲 𝗘. 𝗞𝗲𝗹𝗹 | 𝗖𝗮𝗿𝗹𝗶𝘀𝗹𝗲 𝗦𝗼𝗻𝗴𝘄𝗿𝗶𝘁𝗲𝗿
You know Mike. Songwriting, performing, rockin' with The Townies – he's all over the place. This guy can rock, write, and sing with anyone. Catch him as he warms up the stage – always a fun time.
𝗟𝗼𝗰𝗮𝗹 𝗰𝗿𝗮𝗳𝘁 𝗯𝗲𝗲𝗿 𝗽𝗮𝗶𝗿𝘀 𝗯𝗲𝘀𝘁 𝘄𝗶𝘁𝗵 𝗹𝗶𝘃𝗲, 𝗹𝗼𝗰𝗮𝗹 𝗺𝘂𝘀𝗶𝗰 – show starts at 6PM, UPSTAIRS. Seating is limited, so come early for a pint and some food. See you soon, Carlisle, for food specials (2 for $25!) and Happy Hour (5-7pm!)
Presented by Brett G. Rudder. Poster design by Brett G. Rudder.
PRO sound by Steve Shaw.