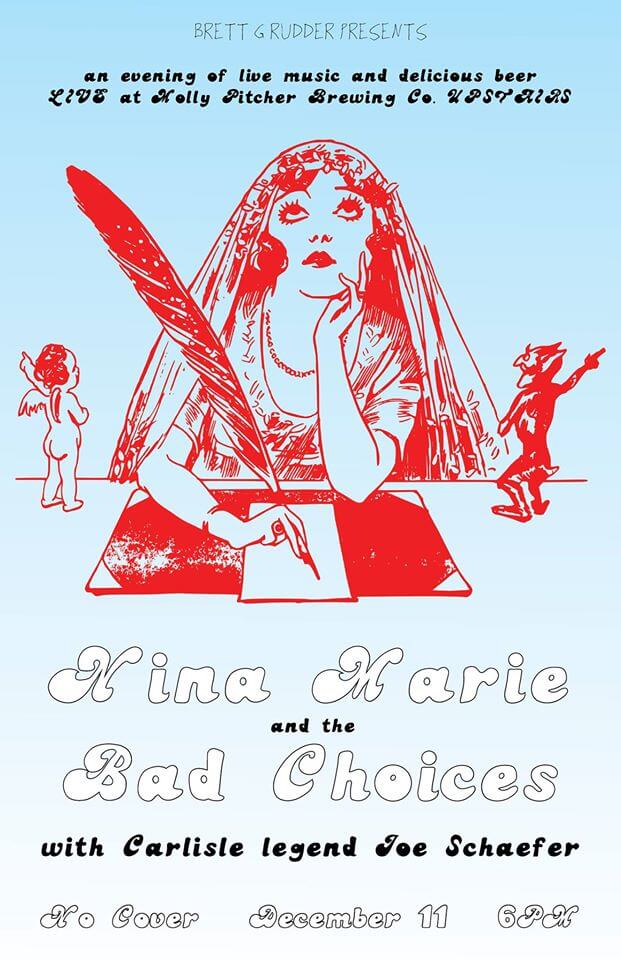 LIVE at Molly Pitcher Upstairs: a local rock 'n roll influenced band called Nina Marie & The Bad Choices with an opening performance by former Rivers bassist Joe Schaefer.
𝗡𝗶𝗻𝗮 𝗠𝗮𝗿𝗶𝗲 & 𝘁𝗵𝗲 𝗕𝗮𝗱 𝗖𝗵𝗼𝗶𝗰𝗲𝘀 | 𝗖𝗮𝗿𝗹𝗶𝘀𝗹𝗲 𝗥𝗼𝗰𝗸 𝗻' 𝗥𝗼𝗹𝗹
With a full band of excellent talent on each instrument, this group plays rock n' roll, blues, and funk (originals and covers) with flair. Come out to hear sad songs that will make you happy!
𝗝𝗼𝗲 𝗦𝗰𝗵𝗮𝗲𝗳𝗲𝗿 | 𝗖𝗮𝗿𝗹𝗶𝘀𝗹𝗲 𝗦𝗶𝗻𝗴𝗲𝗿/𝗦𝗼𝗻𝗴𝘄𝗿𝗶𝘁𝗲𝗿
Joe used to play bass for a great Carlisle band called Rivers. He's more than that, though – with a long list of originals and an uncanny adeptness on the stand-up bass, Joe provides a singer/songwriter sound you've never heard before. His performance is always a treat!
𝗟𝗼𝗰𝗮𝗹 𝗰𝗿𝗮𝗳𝘁 𝗯𝗲𝗲𝗿 𝗽𝗮𝗶𝗿𝘀 𝗯𝗲𝘀𝘁 𝘄𝗶𝘁𝗵 𝗹𝗶𝘃𝗲, 𝗹𝗼𝗰𝗮𝗹 𝗺𝘂𝘀𝗶𝗰 – show starts at 6PM, UPSTAIRS. Seating is limited, so come early for a pint and some food – upstairs opens at 5! See you soon, Carlisle, for food specials (2 for $25!) and Happy Hour ($4 Beers – 5-7pm!)
Presented by Brett G. Rudder. Poster design by Brett G. Rudder.
PRO sound by Steve Shaw.