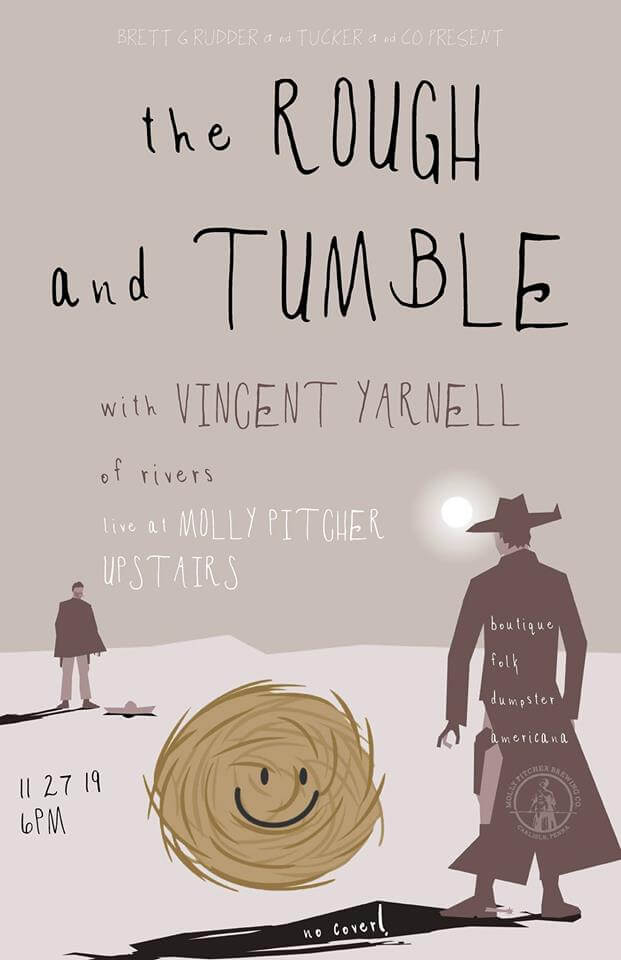 An excellent, unique duo with an even better story (and tunes!), The Rough & Tumble are a dumpster-folk/ thriftstore Americana duo consisting of Mallory Graham and Scott Tyler. With their two dogs they travel around the country in a 16ft camper. Their new album, Howling Back at the Wounded Dog, comes out Sept. 6, 2019.
Vincent Yarnell has been jammin' the PA music scene for a long time now. With roots in all sorts of guitar styles, he's made his way through rock n' roll bands, folk-rock bands, and just pickin a rhythm by his lonesome. He's a local favorite, and we don't get to see him play enough. Come watch him open the night up and start the holidays right!
Local craft beer pairs best with live, local original music – show starts at 6PM, UPSTAIRS. Seating is limited, so come early for a pint and some food. See you soon, Carlisle!
Presented by Brett G. Rudder and Tucker & Co.. Poster design by Brett G. Rudder.